SUMMER 2018
Summer is coming fast and plans are being made for summer training. If you have never trained on Palmer Glacier during the summer you have missed a great opportunity.
Summer training is more expensive but is the best way to make quick advances in your racing career. Early summer is great as there is lots of room and it is not too busy. Mid summer can be the busiest of the entire year. Late summer is great as there is really good snow to train on.

During the summer I train most weekends. Tichy Racing offers training throughout the summer. Daily drop-in is available. Many of the locals choose to do just 2 or 3 days of each camp. (The longer camps are great for those coming from out of town.) We train SL and GS, check with Martin for which days are which. Sometimes we can get some extra SL training in:-) Check out their website for additional details. If you have trained with us this last winter, training discounts are available. Email me for details.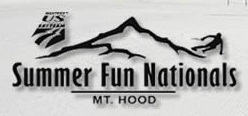 The Summer Fun Race in July is one of the best races you will ever attend. Check it out here. For more info e-mail Meri Stratton: Meri@SummerFunNationals.com